(MPI) - On March 13, 2018, at the headquarters of the Ministry of Planning and Investment (MPI), the Fifth Joint Meeting between the MPI and Japan Chamber of Commerce and Industry (JCCI) was held. Participating in the Joint Meeting were Deputy Minister Nguyen Van Trung and Mr. Yoichi Kobayashi, Chairman of Mekong-Japan Economic Cooperation Committee, JCCI.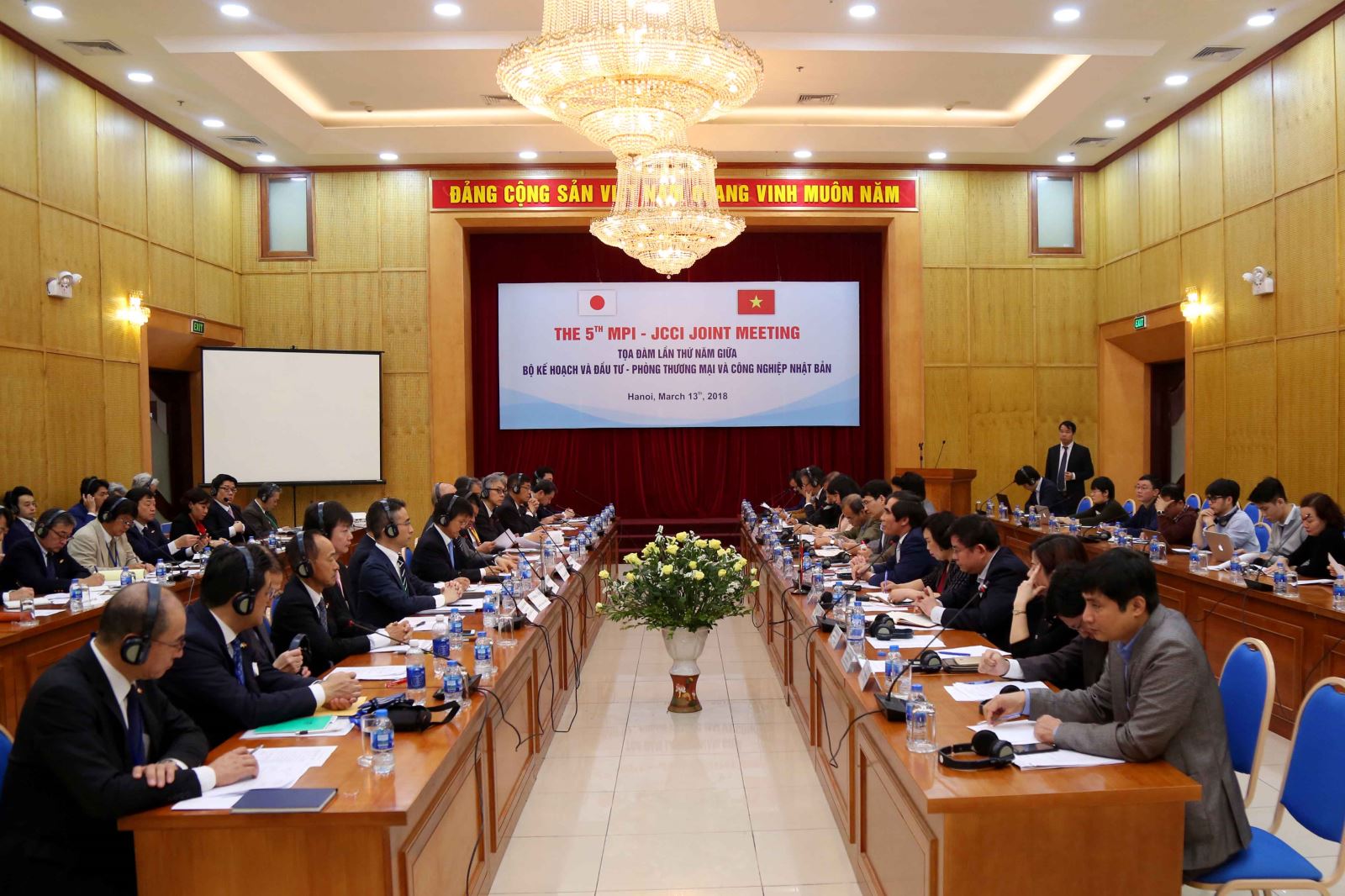 At the meeting: MPI
Speaking at the Joint Meeting, Deputy Minister Nguyen Van Trung highly appreciated the good relationship between Vietnam and Japan. Regarding economic relations, Japan remained to be the number one partner in ODA and the country also had a large investment in Vietnam. The Japan enterprises and JCCI had a big contribution in Vietnam's economic achievements in the last year. Deputy Minister Nguyen Van Trung said Vietnam always encourage and commit to facilitating all conditions for Japanese enterprises to invest in Vietnam.
Mr. Yoichi said that Vietnam is an attracting consumer market and he hoped that in the coming time, the trade-economic relations between the two countries will have further development steps, especially when Vietnam – Japan relation is becoming more and more tightly closed.
Mr. Yoichi Kobayashi highly appreciated Vietnamese stable politics, continuously growing economy, potential expanding domestic market demands, low-cost labor, hard-working workforce. However, he also remarked that Vietnam's legal system, policies are complicated, lack of transparency. The supply of raw materials is limited, the localization rate is low. Regulations and customs procedures are still difficult to apply. The traffic infrastructure, the circulation of goods in the country had not been synchronously developed.
On behalf of the Japanese business delegation, Mr. Yoichi Kobayashi presented proposals and recommendations to Vietnamese government in order to attract more Japanese enterprises choosing Vietnam as an investment destination, these include: optimizing the implementation of administrative procedures, laws, and policies; promoting the improvement of transport infrastructure for further economic development; at the same time, loosening regulations, revising institutions towards Vietnam open economy, etc.
At the Joint Meeting, the Japanese side expressed wishes to continue organizing the annual Joint Meeting with the Ministry of planning and investment, Vietnam Chamber of Commerce and Industry (VCCI) in order to further expand exchanges on trade and investment between the two countries./.
Hien Nguyen
Ministry of Planning and Investment