Strengthening the linkage between FDI and domestic businesses in the new global context
(MPI) – This is the theme of midterm Vietnam Business Forum 2017 (VBF) held on June 16th 2017 by the Ministry of Planning and Investment in collaboration with International Finance Corporation (IFC) and the World Bank (WB) under the co-chairing of MPI's Deputy Minister Dang Huy Dong, WB Country Director in Vietnam Ousmane Dione, IFC Senior Country Manager for Vietnam, Laos, Cambodia Kyle F.Kelhofer and Co-Chairman of VBF Consortium Hirohide Sagara and Tetsu Funayama. Vice Prime Minister Vuong Dinh Hue attended and spoke at the Forum.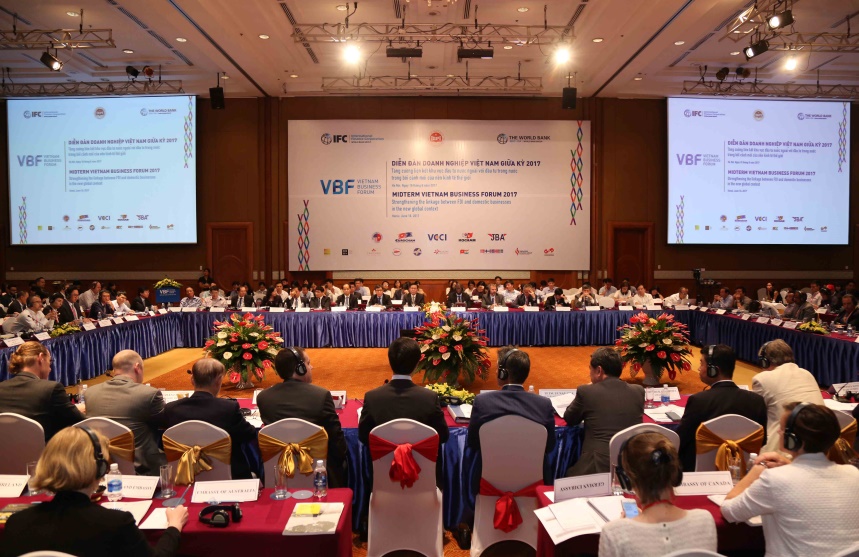 Whole scene of the VBF. Photo: Duc Trung (MPI)
Speaking at the VBF opening, Deputy Minister Dang Huy Dong said that VBF 2017 would review and propose solutions to maintain and attract capital of private sector, the linkage between FDI and domestic businesses, impacts of recent global policies to Vietnam's economy and assess enforcement of some laws related to investment in order to improve efficiency of law enforcement.
The Deputy Minister said that scientific and technological revolution has been continuing to develop drastically, create linkage and cooperation among countries on variety fields and at all levels of global, region, bilateral, multilateral. Being an open economy, Vietnam will be affected by those factors, so the Government and business community should use the opportunities and overcome the challenges against the new context in the time coming.
Over the last 3 decades, economy of Vietnam grew largely based on young labors and exploitation of raw natural resources… However, they have been gradually depleting, motivation of growth has been reducing and facing the risk of falling into the middle income trap, FDI capital is considered as new vitality of the economy to meet the demand of restructuring and changing model towards fast and sustainable growth. Vietnam Government desires to attract FDI capital in parallel with develop domestic private sector. But FDI should have better quality, environmental friendliness, high technology to orient and support domestic sector to take part in global technology and supply chain.
Besides, in order to integrate and develop, Vietnam's businesses should apply scientific advances, invest into research and development, advanced administration and professional operation. Under the impacts of global policies and trend of international economic integration, Vietnam has been continuing to improve investment climate by perfecting institutions, developing legal framework with uniform, transparent and interoperable regulations. New laws related to investment and business have been amended and promulgated such as Law on Investment, Law on Enterprise, Law on Real Estate Business… expressing the spirit of being ready to approach challenges and innovation of Vietnam Government. However, there is a large gap between formulation and enforcement, how to do them parallelly is an urgent problem now.
VBF 2017 included 3 main sessions: Session 1 was presentations and reports by Chambers of commerce based on the viewpoint of maintenance and improvement for international competitiveness of Vietnam and some difficulties experienced in investment in Vietnam; Session 2 discussed impact of global policies on private sector investment in Vietnam such as TPP, EVFTA, RCEP…, impact of the fourth Industrial Revolution (Industrie 4.0), how to maintain and improve investment flow from private sector in the new context and connect FDI with domestic businesses; Session 3 focused on enhancing efficiency in enforcement of the current laws, reviewing on the gaps between policies and implementation, transparency and fairness, reviewing and evaluating the Investment Law and the Enterprise Law after 2 years of implementation.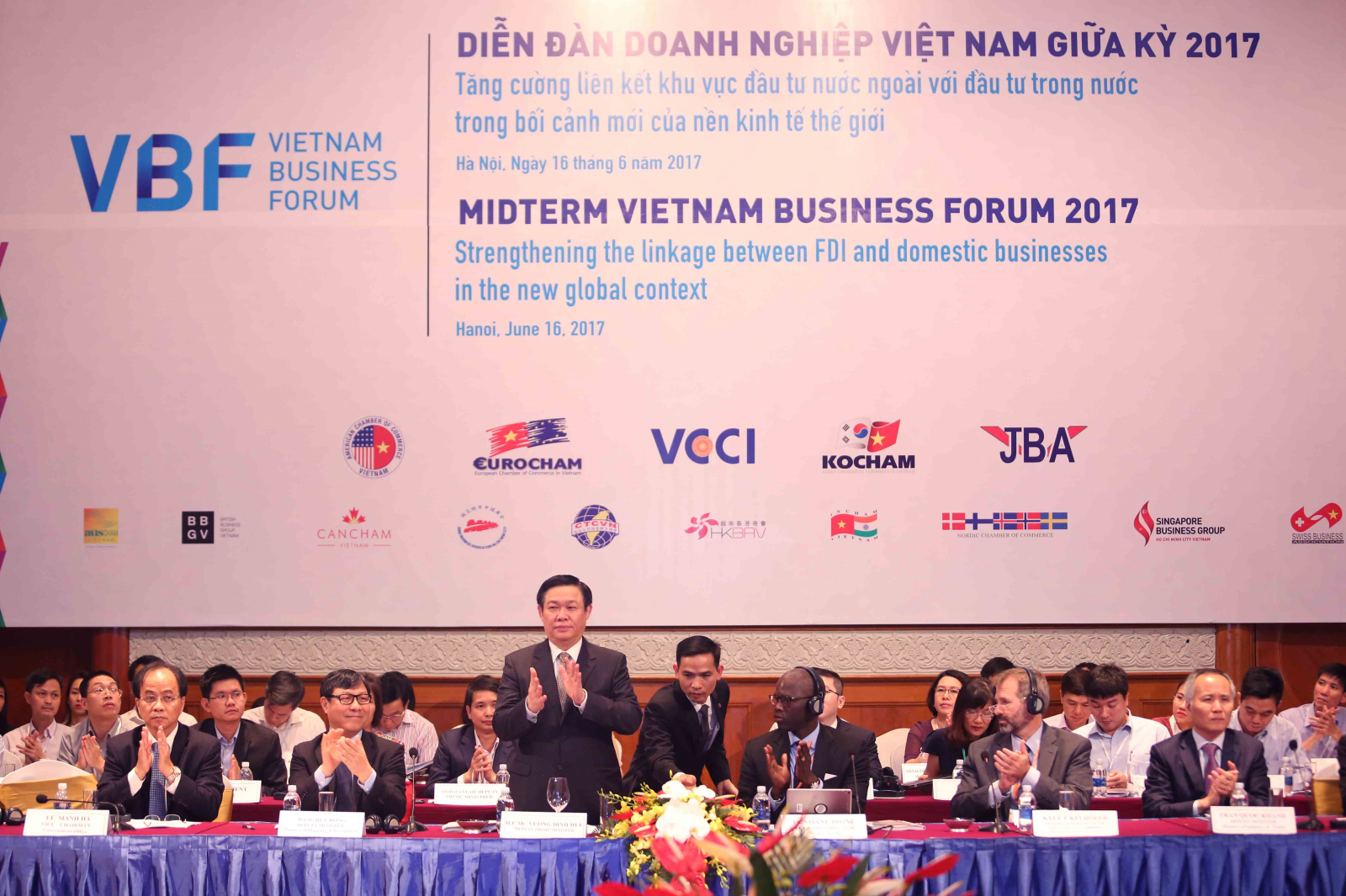 Vice Prime Minister Vuong Dinh Hue at the VBF. Photo: Duc Trung (MPI)
Speaking at the Forum, Vice Prime Minister Vuong Dinh Hue highly appreciated the constructional speeches and practical comments of speakers and delegates. Leaders of ministries, branches answered and discussed issues concerned by business community actively. The Vice Prime Minister said that Vietnam has strengthened international integration, which is consistent throughout policy of the Government. Vietnam has been signing many new-generation free trade agreements with high standard and doing its utmost to perfect economic institutions, improving competitiveness to integrate international economy.
In order to facilitate businesses, including SOEs, private sector, FDI, household businesses, the Government has been building and perfecting a clear and transparent business climate for all types of businesses. Resolution No. 19/NQ-CP on main duties and measures for improving business environment and enhancing national competitiveness and Resolution No. 35/NQ-CP dated May 16th 2016 on supporting and developing enterprises by 2020 have carried out drastically. Decrees and circulars guidelining implementation of Law on Supporting SMEs will be issued soon.
Regarding trade facilitation, Vice Prime Minister Vuong Dinh Hue said that the Government has just consolidated the National Trade Facilitation Committee, striving so that by 2018 as much as 80% of administrative procedures is processed on National One-Door Portal, ASEAN One-Door. Leaders of the Government has steered ministries and branches to review and modify 73 customs inspection procedures to facilitate domestic and foreign businesses to invest in Vietnam. They have also removed difficulties and obstacles, perfected and developed such markets as commodity, service, capital, real estate, labor, which are considered as necessary and sufficient conditions for the development of businesses. They have also boosted restructuring economy in line with innovating growth model, attaching importance to quality growth.
Mr. Vuong Dinh Hue assigned the MPI to assume and coordinate with ministries and branches to compile comments and recommendations of the VBF to commit to the Government and Prime Minister. The government will research to perfect a transparent, open and stable legal system, minimize legal risk, facilitate domestic and foreign investors, strive to build facilitating and action oriented Government, serve people and enterprises./.
Nguyen Huong
Ministry of Planning and Investment